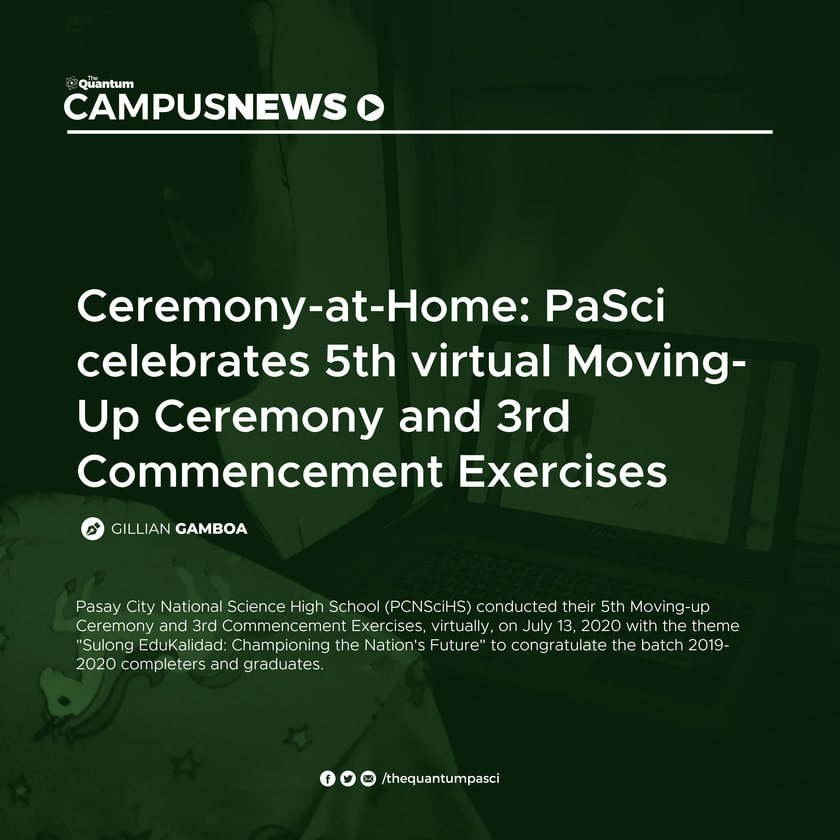 Ceremony-at-Home: PaSci celebrates 5th Virtual Moving-Up Ceremony and 3rd Commencement Exercises
Pasay City National Science High School (PCNSciHS) conducted their 5th Moving-up Ceremony and 3rd Commencement Exercises, virtually, on July 13, 2020 with the theme "Sulong EduKalidad: Championing the Nation's Future" to congratulate the batch 2019-2020 completers and graduates. Despite of the new coronavirus disease (COVID-19) pandemic, the school still made the ceremonies special by the school by conducting it on livestream. This year's online Moving-up Ceremony and Commencement Exercises are very much alike to an actual graduation. From the prayer, to the distribution of certificates by showing the completers' pictures with their names, awarding of medals to students with Honors, as well as messages from important persons. "My warmest felicitations to the hopes of our nation— the completers of school year 2019-2020. You have already accomplished the initial step towards your dreams, that is receiving your diplomas which symbolizes hard work, brilliance and determination," Mrs. Lovelynn Jane S. Bacera, OIC-principal of the school said to the completers and graduates. "The way you end this school year has been different because of the COVID19 pandemic… From then on until now, our weapon is education, use it wisely because you, the K12 students, were molded to face the challenges of the modern times," she added. 
 Under the community quarantine — imposed on the entire Luzon — mass gatherings, such as graduation rites, are not allowed. The Department of Education, however, has clarified that ceremonies are not necessarily cancelled, but can instead be held later once the lockdown has been lifted and schools can also conduct e-graduation. The students of PCNSciHS had mixed feelings about the virtual ceremonies, saying that they have a bit of regret for they cannot do an actual graduation but still happy for their accomplishments. "Honestly speaking, I was sad (along with some of my batchmates) that we were not able to step on the stage for our graduation. But I understand that safety comes first," said Ashley Nicole Acal, graduating student of PCNSciHS. "And maybe this will be the last time that we will gather (virtually) and no doubt, I will miss them. I know that we will all be successful soon. I just wanna say to you all, that I hope everything that you do will be helpful for our country," she added.
News by Gillian C. Gamboa